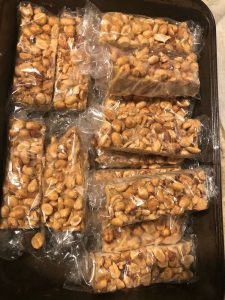 Ingredients
3 cups peanuts, without skins
2 ½ tbsp Peanut Butter
2 cups Peanut Butter Chips
1 can sweeten condensed milk
2 cups miniature marshmallow
I
Spread another layer of peanuts over the liquid mix
*Instructions
FIRST STEP:
Place half the peanuts in the bottom of an 11×7 baking dish
In a microwave-safe bowl, add the peanut butter chips and add the sweetened condensed milk, spoon in the peanut butter
SECOND STEP:
Microwave in 30-second increments, stirring after each round.
When the mixture is almost smooth, add the mini marshmallows and stir to melt
THIRD STEP:
Pour this mixture on top of the peanuts in the baking dish
Spread another layer of peanuts over the liquid mixture
FOURTH STEP:
Cover and refrigerate until set.
Cut into squares and place on a serving platter before serving.
Enjoy!