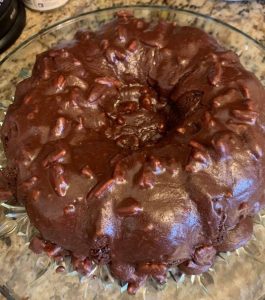 It's so good, especially served warm with some vanilla ice cream.
1 Box Devils Food Cakemix
1 Box 3.9 Instant Chocolate Pudding
5 Eggs
1 tsp Vanilla
3/4 Cup Oil
1 Cup Sour Cream or Buttermilk
3/4 Cup Brewed Coffee
2 Cups Nestles Toll House Chocolate Chips
Mix all dry ingredients together, and all liquid together and blend well. Fold in chocolate chips. Bake in a greased bundt cake pan at 350 degrees for 45 minutes. Let cool for 10 Minutes before turning over onto a cake plate or large round platter.
Ganache Icing: Heat 1 stick of salted butter on the stove over low heat. Add 2 TBSP Cocoa powder, 1/2 box powder sugar, 1 tsp Vanilla, 3 TBPSP Milk, and 1/2 Cup Pecan pieces. Pour warm over cake and serve warm if possible. If not, heat up in the microwave before serving.