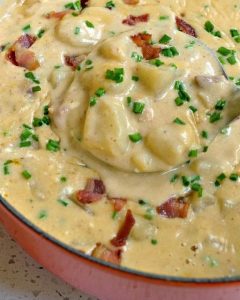 Loaded Potato Soup
INGREDIENTS:
8 slices bacon chopped
4 tablespoons butter
4 large Russet potatoes peeled and cubed
1 medium onion finely chopped
2 cloves garlic minced
⅛ teaspoon cayenne pepper
¼ cup flour
2 ½ cups low sodium chicken broth
2 ½ cups 2% milk
1 cup shredded sharp cheddar
1 cup shredded white cheddar
½ cup sour cream
¼ cup chopped chives
Salt and pepper to taste
INSTRUCTIONS:
In a Dutch oven or heavy stockpot over medium heat brown the bacon. Using a slotted spoon remove the bacon from the pan reserving the grease. Add enough butter to make 2 tablespoons of fat. Melt the butter over medium heat. Add the potatoes and onions to the pan cooking for 5 minutes or until the onions are soft. Add the garlic and the cayenne pepper; cooking for 1 minute stirring constantly. Using a slotted spoon remove the potatoes, onions and garlic to a bowl or plate; reserving any fat in the pan.
Melt enough butter to make 4 tablespoons of fat. Sprinkle in 1/4 cup flour and whisk to combine. Cook for 2-3 minutes stirring constantly. Whisk in the chicken broth and milk in several intervals alternating between the two.
Add the potatoes, onions and garlic back to the pot and simmer until the potatoes are tender.
Whisk in both shredded cheeses until melted. Remove from the heat and stir in the bacon, sour cream, chives and salt and pepper to taste.
Q1: What is loaded potato soup? A1: Loaded potato soup is a hearty and flavorful soup made with potatoes, typically in a creamy base, and loaded with ingredients such as cheese, bacon, green onions, and sour cream. It's a comforting and filling dish, perfect for colder weather.
Q2: How do I make loaded potato soup from scratch? A2: To make loaded potato soup from scratch, you'll need ingredients like potatoes, broth, onions, garlic, cheese, bacon, and various seasonings. The basic steps involve cooking and mashing the potatoes, preparing the soup base, adding the toppings, and simmering until the flavors meld together. There are various recipes available online with specific instructions.
Q3: Can I make loaded potato soup ahead of time? A3: Yes, you can make loaded potato soup ahead of time. Prepare the soup as directed, excluding any toppings or garnishes. Let it cool completely, then store it in an airtight container in the refrigerator for up to 3-4 days. Reheat on the stovetop over low heat, stirring occasionally. Add the toppings just before serving.
Q4: How can I make loaded potato soup healthier? A4: To make loaded potato soup healthier, consider using low-fat or skim milk instead of heavy cream, and reducing the amount of cheese and bacon. You can also add more vegetables, like carrots or cauliflower, for added nutrients. Additionally, using sweet potatoes or a combination of sweet potatoes and regular potatoes can add a nutritional boost.
Q5: Can I freeze loaded potato soup? A5: Yes, you can freeze loaded potato soup, but it's best to freeze it without the toppings. Allow the soup to cool completely, then transfer it to a freezer-safe container, leaving some space for expansion. Freeze for up to 3 months. When you're ready to serve, thaw the soup in the refrigerator overnight, reheat on the stovetop, and add fresh toppings before serving.
Q6: What are some popular variations of loaded potato soup? A6: Some popular variations include adding different types of cheese (such as cheddar or pepper jack), using different herbs and spices (like thyme or paprika), and incorporating additional vegetables (such as broccoli or leeks). You can also experiment with different types of meat, like using ham or sausage instead of bacon.