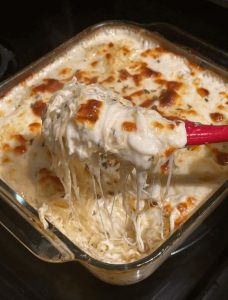 Ingredients
8-ounce angel hair pasta (half of a 16-ounce box)
2 cups chopped, cooked chicken
2 (10 ounce) can cream of chicken soup
1 cup salsa
1 cup sour cream
2 cups Mexican cheese blend, divided use
1 Tablespoon taco seasoning
dried parsley, for topping (optional)
Instructions
Preheat oven to 350f degrees. Spray a 9×13 baking dish with nonstick cooking spray.
Cook pasta according to package directions (remember, you are only using half a box of angel hair pasta here.) Once pasta is cooked, drain well.
Place pasta back into the pot and add diced chicken, cream of chicken soups, salsa, sour cream, 1 cup of Mexican cheese blend, and taco seasoning.
Stir well to combine (this will take a few minutes.)
Pour the combined mixture into your prepared baking dish.
Top with remaining cheese and a sprinkling of dried parsley.
Cover with nonstick aluminum foil.
Cook in the oven for about 25 minutes (until hot and bubbly.)