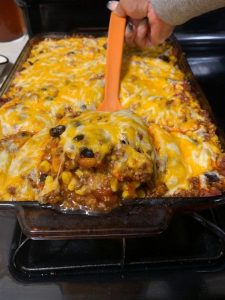 Ingredients
1 pound ground beef
(1) (15 oz) can of sweet corn, drained
1 cup mild, chunky salsa
¼ cup sliced black olives
3 ½ cups cooked egg noodles
(1) (15.25 oz) can of kidney beans, drained and rinsed
¼ cup taco sauce
1 (1.25 oz) package of taco seasoning mix
½ cup tomato sauce
Directions
How to make Easy Mexican Casserole:
Step 1. Preheat the oven to 350 degrees.
Step 2. Saute the meat in a skillet over medium high heat on the stove until it is completely browned
Step 3. Add the chili powder, cumin, oregano and salt and pepper to taste to the skillet, and saute for a minute longer.
a. Adding chili powder
b. Adding cumin
c. Adding oregano
Step 4. Stir in the Rotel and beans, and simmer for 5 minutes.
Step 5. Place the crushed tortilla chips into the bottom of a well-greased 9×13 baking dish.
Step 6. Add the meat mixture on top of the tortilla chips.
Step 7. Spread the sour cream over the meat in an even layer
Step 8. Place the tomatoes and green onions on top of the sour cream.
Step 9. Sprinkle the cheese on top.
Step 10. Bake for 30-40 minutes or until bubbly.