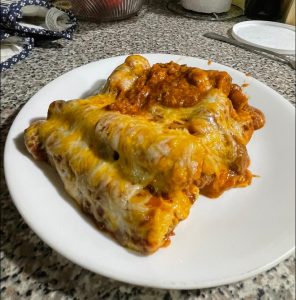 TikTok Enchiladas
Box of taquitos (I bought beef, but next time I'll make chicken), 1 can of chili with no beans, 1 large can of enchilada sauce, cheese, sour cream for topping
1. Place taquitos in pan to create 2 layers. 2. pour chili and sauce evenly. 3. Sprinkle cheese on top. 4. Preheat 400 and cook for 25-30 mins. 5. Take out and cover with sour cream (or optional: green onions, lettuce, tomatoes, and salsa.)
TikTok Enchiladas Taquito Casserole Recipe
Ingredients:
1 box of taquitos (beef, chicken, or your preferred filling)
1 can of chili with no beans
1 large can of enchilada sauce
2 cups shredded cheese (cheddar, Mexican blend, or your choice)
Sour cream, for topping
Optional toppings: green onions, lettuce, tomatoes, salsa
Instructions:
1. Preheat and Prepare:
Preheat your oven to 400°F (200°C).
Grease a baking dish large enough to fit the taquitos in two layers.
2. Layer the Taquitos:
Arrange a layer of taquitos in the bottom of the prepared baking dish. You can cut some taquitos to fit them into the corners if needed.
Place another layer of taquitos on top of the first layer. The taquitos should cover the entire bottom of the dish.
3. Add Chili and Enchilada Sauce:
Evenly pour the can of chili with no beans over the taquitos in the baking dish.
Pour the large can of enchilada sauce evenly over the chili layer.
4. Sprinkle Cheese:
Sprinkle the shredded cheese evenly over the top of the chili and enchilada sauce layers. Use as much cheese as you prefer.
5. Bake:
Place the dish in the preheated oven and bake for 25-30 minutes, or until the cheese is melted and bubbly, and the taquitos are heated through.
6. Add Toppings:
Carefully remove the dish from the oven.
Optional: Garnish the enchiladas taquito casserole with dollops of sour cream. You can also add chopped green onions, shredded lettuce, diced tomatoes, and salsa for extra flavor and freshness.
7. Serve:
Let the dish cool for a few minutes before serving to make it easier to cut into portions.
Serve hot, and enjoy your TikTok-inspired enchiladas taquito casserole with your favorite toppings!
This quick and easy recipe combines the flavors of enchiladas with the convenience of taquitos, creating a delicious and satisfying meal that's perfect for busy days or when you're craving Mexican-inspired comfort food. Enjoy!