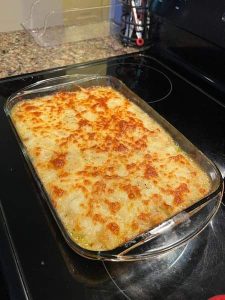 Super easy dinner tonight and it's delicious.
16 oz pasta
1 jar Alfredo sauce
3 cups chicken broth or stock
2 cups cooked chicken
Italian seasoning
Garlic powder
Salt and pepper
Mozzarella cheese
Mix everything but the cheese in a 9×13. Bake covered at 425° for 40 minutes. Add the cheese and bake another 15 minutes, uncovered.
Edit- you don't need to pre-cook the pasta. It cooks while it bakes
Creamy Baked Alfredo Pasta with Chicken
Ingredients:
16 oz pasta
1 jar (about 15 oz) Alfredo sauce
3 cups chicken broth or stock
2 cups cooked chicken, shredded or diced
1 teaspoon Italian seasoning
1/2 teaspoon garlic powder
Salt and pepper, to taste
2 cups mozzarella cheese, shredded
Fresh parsley, chopped, for garnish (optional)
Instructions:
Preparation: Preheat your oven to 425°F (220°C). Grease a 9×13-inch baking dish lightly.
Combine Ingredients: In the baking dish, combine the uncooked pasta, Alfredo sauce, chicken broth, cooked chicken, Italian seasoning, garlic powder, salt, and pepper. Mix everything together until the pasta is well coated and submerged in the liquid. Ensure the pasta is spread out evenly in the dish.
Bake Covered: Cover the baking dish tightly with aluminum foil. Place it in the preheated oven and bake for 40 minutes. During this time, the pasta will cook and absorb the flavors from the Alfredo sauce and chicken broth.
Add Cheese: After 40 minutes, remove the foil and sprinkle the shredded mozzarella cheese evenly over the top of the pasta.
Bake Uncovered: Return the baking dish to the oven, uncovered, and bake for an additional 15 minutes or until the cheese is melted and bubbly, and the top is golden brown.
Serve: Remove from the oven and let it cool for a few minutes before serving. Garnish with fresh chopped parsley if desired.
Enjoy: Serve this creamy baked Alfredo pasta with a side salad or garlic bread for a complete and satisfying meal.
Q1: Can I use a different type of pasta for this recipe?
A1: Yes, you can use a different type of pasta if you prefer. Penne, fettuccine, or rotini would work well in this recipe. Just be sure to adjust the baking time if you use a different type of pasta, as cooking times can vary.
Q2: Can I use homemade Alfredo sauce instead of a jarred sauce?
A2: Absolutely! Homemade Alfredo sauce can add a more personalized touch to your dish. Feel free to substitute it for the jarred sauce. You can find many easy homemade Alfredo sauce recipes online.
Q3: Can I prepare this dish in advance and bake it later?
A3: Yes, you can prepare the pasta mixture in advance and refrigerate it until you're ready to bake. When you're ready to bake, simply add the cheese on top and bake according to the instructions. Keep in mind that you might need to add a few extra minutes to the baking time if the dish is cold from the refrigerator.
Q4: Can I freeze the leftovers?
A4: Yes, you can freeze the leftovers. Allow the dish to cool completely, then transfer individual portions to airtight containers or freezer-safe bags. When reheating, you may want to add a splash of chicken broth or milk to maintain the creaminess of the sauce. Thaw the frozen pasta in the refrigerator overnight before reheating.
Q5: Can I make this dish vegetarian?
A5: Absolutely! You can omit the chicken and use vegetable broth instead of chicken broth to make a delicious vegetarian version of this dish. You can also add vegetables like mushrooms, spinach, or roasted red peppers for added flavor and nutrition.
Q6: What can I serve with Creamy Baked Alfredo Pasta with Chicken?
A6: This dish pairs well with a variety of side dishes such as a green salad, garlic bread, steamed vegetables, or a simple fruit salad. Choose your favorite sides to complement the creamy pasta and create a balanced meal.
Q7: Can I adjust the seasoning to make it spicier?
A7: Certainly! If you prefer a spicier version, you can add a pinch of red pepper flakes or a dash of hot sauce to the pasta mixture before baking. Adjust the seasoning to your taste to enhance the flavors to your preference.