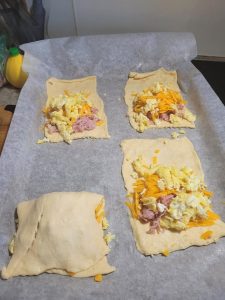 Breakfast pockets!

Easy, tasty and can modify it based on what you have in the fridge!
Ingredients

1. pillsbury Crescent roll
2. 3-4 eggs
3. 1 cup shredded cheddar( or whatever cheese you'd like)
4. 4 oz of sliced ham chopped ( can substitute turkey, ground cooked sausage meat ect)
5. Parchment paper
1. Preheat oven to 375
2. Scramble eggs 3-5 mns on medium heat or until cooked
3. Unroll Crescents, separate into 4 squares ( 2 triangles per portion).
4. Pinch middle of Crescent rolls to form solid rectangle
5. On half of the newly formed rectangle, place cheese, ham and eggs
6.Fold over and use a fork to seal the edges ( don't worry it doesn't really leak out if the seal breaks)
7. Bake for 12-15 mns until golden brown

Serve warm!
Wrap tightly in plastic wrap and frozen up to a month!