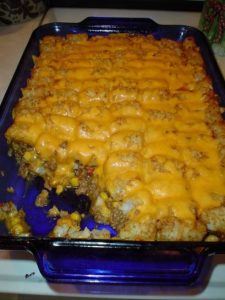 2 lbs lean ground beef
1 (1 1/4 ounce) package of taco seasoning
1 (15-ounce) can of corn, drained
1 (10 3/4 ounce) can Fiesta nacho cheese soup
1 (32-ounce) package of tater tots
1 (8-ounce) package of cheddar cheese
Directions :
brown beef drain.
stir in taco seasoning and water and simmer for 5 minutes.
add corn soup put in a 9 x 13 pan and top with tater tots.
bake at 350 for 35 minutes.
take out the top with cheese and put it back in the oven for 5 minutes or till the cheese is melted.
add ketchup or taco sauce when served tastes very good enjoy.