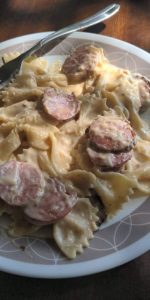 One of our go to cheap meals..
Kielbasa or smoked sausage $3.18
Bowtie pasta .88 cents
Alfredo $2.18 (you can get cheaper Alfredo or make your own)
$6.24 cents for the whole meal. It's fast and you can add spinach or other veggies if you'd like.
I fry the sausage in a pan with olive oil while the noodles boil. When they are warm or as crispy as you like add your Alfredo. If you want your Alfredo to go farther you can add milk and parmesan cheese or butter but- one can of Alfredo, one box of bowties, and one ring of kielbasa normally does the trick!
Ingredients:
1 ring of kielbasa or smoked sausage (about $3.18)
1 pound bowtie pasta ($0.88)
1 can of Alfredo sauce or homemade Alfredo sauce ($2.18)
2 tablespoons olive oil
Optional: 1 cup fresh spinach leaves, chopped
Optional: Grated Parmesan cheese for garnish
Instructions:
1. Prepare the Bowtie Pasta:
Cook the bowtie pasta according to the package instructions until al dente. Drain and set aside.
2. Cook the Kielbasa:
While the pasta is cooking, slice the kielbasa into bite-sized pieces. In a large pan, heat the olive oil over medium heat. Add the kielbasa pieces and sauté until they are browned and crispy on the edges.
3. Optional: Add Spinach:
If you're adding spinach or any other vegetables, toss them into the pan with the kielbasa. Sauté until the spinach wilts and the vegetables are tender.
4. Combine with Alfredo Sauce:
Reduce the heat to low. Pour the Alfredo sauce over the cooked kielbasa and spinach. Stir well until the sauce is evenly distributed and everything is heated through.
5. Combine with Bowtie Pasta:
Add the cooked bowtie pasta to the pan with the sauce and toss until the pasta is well coated with the Alfredo sauce.
6. Serve:
Remove from heat and let it sit for a minute or two to allow the flavors to meld together.
Serve hot, garnished with grated Parmesan cheese if desired.