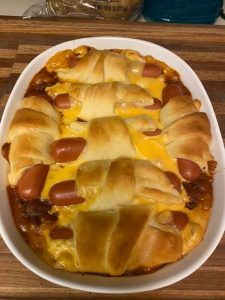 2 (15 oz) cans of chili with beans.
1 (16 oz) package of beef frankfurters.
10 (8-inch) flour tortillas.
1 (8 oz) package of shredded cheddar cheese.
In a baking dish, spread 1 can of chili and beans.
Roll up the franks inside the tortillas and arrange them over the chili and beans.
Top with the second can of chili and beans and sprinkle the cheese over the top.
In a preheated oven to 425° bake covered for 30 minutes and Voila!
Simple, easy, and cheesy! So easy and simple to make and yet so delicious! You should definitely try this at home, you will love it.