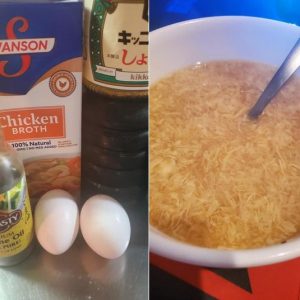 Sometimes see people asking what else they could make with eggs. I looooove egg drop soup. I live in Asia right now so I thought I might share the recipe.

1 box Chicken stock
2(or 3, I like alot of egg
) beaten eggs
1tsp sesame oil
2 tbsp Soy Sauce
S&P to taste.
Heat soy sauce, stock,and sesame oil to simmer. Stir in one direction and slowly add beaten eggs to make whispy egg strands. Simmer for a minute or so. S&P to taste and enjoy

Forgot to add, can put scallions on top! I just didn't have any this time.
WHAT DO YOU GUYS THING ABOUT THIS?