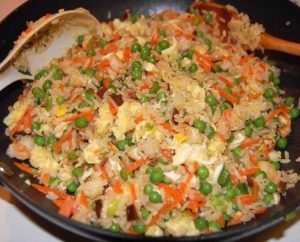 Fried Rice Ingredients:
4 cups of cooked rice.
3 tbsps of butter.
1 diced onion.
12 oz of frozen peas and carrots.
½ cup of soy sauce.
3 beaten eggs.

How to make Fried Rice:
In a large nonstick skillet, melt the butter and sauté the onion until tender.
Mix in the peas and carrots and heat until thawed and tender.
Move the vegetables to one side of the skillet and scramble the eggs on the other side.
Once scrambled, mix the eggs and vegetables together then stir in the soy sauce.
Mix in the rice gradually until well combined.
Easy, peasy, and yummy! This rice is a must-try guy! The veggies go perfectly with it. I usually make this rice when I have chicken. It fits perfectly.