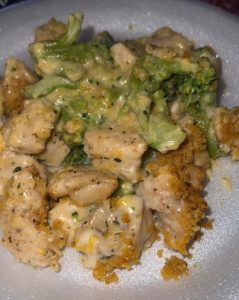 Broccoli Chicken
Equipment:
9×13 casserole dish
3-quart casserole dish
Ingredients
4 chicken breasts about 2 pounds (or 3 cups cooked chicken), cut into bite-size pieces
1 Tablespoon olive oil if using raw chicken breasts
1 ½-2 pounds of broccoli cut into bite-sized pieces
1 ½ cups cheddar cheese shredded, divided
10 ½ ounces condensed cream of mushroom soup 1 can (or cream of chicken soup)
1 cup of sour cream
½ cup milk
½ teaspoon each garlic powder, onion powder, dry mustard powder, and pepper
¼ teaspoon kosher salt
Breadcrumb Topping
3 Tablespoons Panko bread crumbs or buttery crackers (like Ritz crackers)
1 Tablespoon melted butter
Instructions
1. Preheat oven to 400°F. Grease a 9×13 baking dish (or a 3-quart casserole dish).
2. If using raw chicken breasts, in a large skillet, heat olive oil on medium-high. Add the chicken pieces and cook until cooked through about 10 minutes. Set aside.
3. Meanwhile, place broccoli in a large pot of boiling water and cook 2-3 minutes or just until tender crisp. Drain well and put in the bottom of the baking dish.
4. In a large bowl, combine 1 cup of cheddar cheese, soup, sour cream, milk, and seasonings.Stir in chicken and spread on top of broccoli in baking or casserole dish. Sprinkle with remaining cheese.
5. In a small bowl, mix bread crumbs and butter. Sprinkle over the cheese.
6. Bake 20-22 minutes, or until the breadcrumbs are lightly browned and the mixture is bubbly and hot.
7. Serve over rice, noodles, or mashed potatoes, as desired.