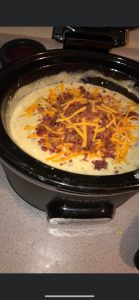 Loaded Potato soup

Crockpot addition
• 6-7 potato's (diced)
• 1 small onion (diced)
• celery (put how much you'd like)
• 1 cream of chicken
• chicken broth ( kinda put how much I think is good lol I don't really measure it)
•2 cream of celery
• 1 cream of mushroom
•salt & pepper
then when it's done I'll mix in a thing of cream cheese I do like 1 1/2 package (let that melt) then I put bacon bits & cheddar cheese on top an mix it all up. Cook it in crockpot on high for 6hrs.
Even better the next day
Creamy Loaded Potato Soup in Crockpot
Ingredients:
6-7 potatoes, peeled and diced
1 small onion, diced
Celery, to taste, chopped
1 can (10.5 oz) cream of chicken soup
2 cans (10.5 oz each) cream of celery soup
1 can (10.5 oz) cream of mushroom soup
Chicken broth, enough to cover the ingredients in the crockpot
Salt and pepper, to taste
1 1/2 packages (12 oz) cream cheese, softened
Bacon bits, for garnish
Cheddar cheese, shredded, for garnish
Instructions:
Prepare the Ingredients: Peel and dice the potatoes, chop the onion and celery.
Combine Ingredients in the Crockpot: In a crockpot, combine the diced potatoes, diced onion, chopped celery, cream of chicken soup, cream of celery soup, and cream of mushroom soup. Add enough chicken broth to cover the ingredients. Season with salt and pepper to taste.
Cook in Crockpot: Cover and cook on high for 6 hours or until the potatoes are tender and cooked through.
Add Cream Cheese: About 30 minutes before the soup is done cooking, add the softened cream cheese to the crockpot. Let it melt and stir well to incorporate the cream cheese into the soup, creating a creamy texture.
Serve: Ladle the hot soup into bowls.
Garnish: Top each serving with a generous sprinkle of bacon bits and shredded cheddar cheese.
Enjoy: Serve hot and enjoy the rich, creamy, and loaded goodness of your homemade potato soup!
Note: This soup will taste even better the next day as the flavors meld together. Store any leftovers in an airtight container in the refrigerator. Reheat gently on the stove, adding a bit of extra chicken broth if needed to reach your desired consistency